Abbie Conant and William Osborne's Southeastern USA Tour 2002
See the new interview with Abbie on the "On-line Trombone Journal"
Biographies of Abbie & William
To "The Wired Goddess and Her Trombone" Page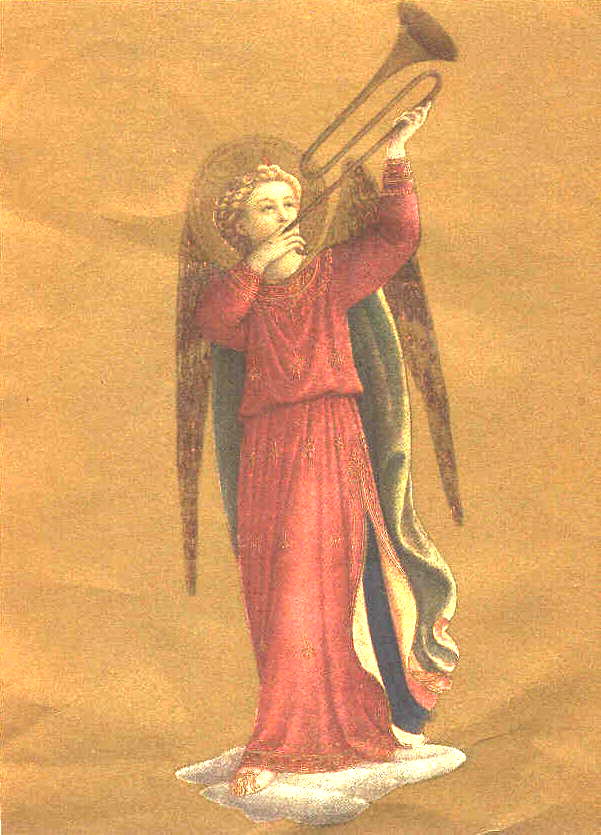 On February 21st, 2002, the world-renowned trombonist, Abbie Conant, and her husband, composer William Osborne, will make a 18 city tour of the Southeastern United States. They will travel with three hours of repetoire comprising two programs. The first first program is of works for trombone trombone and computer that have been written for their project called "The Wired Goddess and Her Trombone." The second program will be comprised of their music theater works.
The "Wired Goddess and Her Trombone" is their project designed to encourage the creation of new works for trombone and computer based on the theme of the Goddess in her many manifestations. To date 28 works have been written or are in progress of which Abbie has already premiered 14. Some are turning out to be truly fine additions to the repertoire. Their programs will include works by five distinguished American women composers who teach at some of America's most famous music schools:
Cindy Cox (Univ. of California, Berkeley)

Elizabeth Hoffman (New York University)

Maggi Payne (Mills College)

Anne LeBaron (Cal Arts)

Anna Rubin (Oberlin College)
They will travel with their own 600 pound surround-sound system that provides the highest quality sonic effects. This concert is an opportunity to hear one of the world's finest trombonists performing exciting new literature.
Southeastern USA Tour Itinerary
(T = music theater program; G = Goddess Program)
G -- February 21-22 Denison University Granville, Ohio
T -- February 25 Morehead State University Morehead, Kentucky
G,T --Febraury 28 East Carolina University Greenville, North Carolina
G -- March 4 U. of Maryland, Baltimore County Baltimore, Maryland
G-- March 7 Virginia Commonwealth University Richmond, Virginia
T -- March 10 Lenoir-Rhyne College Hickory, North Carolina
G -- March 11 Virginia Technical University Blacksburg, Virginia
* March 12 University of Maryland College Park, Maryland
G -- March 14-16 Eastern Trombone Workshop Washington, DC
G -- March 19 University of Virginia Charlottesville, Virginia
G -- March 20 Univ. of North Carolina, Chapel Hill Chapel Hill, N.C. Chapel Hill
T -- March 26 University of Tennessee, Knoxville Knoxville, TN Knoxville
T -- April 1 University of Tennessee, Chattanooga Chattanooga, TN
T -- April 4 Valdosta State University Valdosta, Georgia
G -- April 6 University of Florida Gainesville, Florida
T -- April 8 Columbus State University Columbus, Georgia
* April 11 Georgia State University Atlanta, Georgia
G -- April 14 University of Arkansas Fayetteville, Arkansas
(*March 12 and April 11 will be trombone masterclasses only.)
This tour is made possible, in part, with assistance from United Musical Instruments.
Program I: THE WIRED GODDESS AND HER TROMBONE
Music for the End of Time William Osborne (1998)
The Elderberry Goddess Elizabeth Hoffman (2000)
Hysteria Cindy Cox (2001)
Time Bomb Chris Brown (1999)
Landmine Anna Rubin (2001)
Sauger Anne LeBaron(2001)
Hum 2 Maggi Payne (2000)
Love Song Without Words Nancy Dowlin (2000)
Program II: MUSIC THEATER AND DRAMATIC TONE POEM
Street Scene for the Last Mad Soprano William Osborne (1997)
(Intermission)
Music for the End of Time William Osborne (1998)
Brief Program Notes:
WILLIAM OSBORNE -- "Music for the End of Time" for trombone and quadraphonic tape in six movements based on the the _Book of Revelation_. The electronic music of the surround sound creates a sonic environment in which the trombone is the central figure. Conant's performance reveals all aspects of the trombone, ranging from expressions of "divine wrath," to wild rhythmic unisons with the Four Horsemen of the Apocalypse, to the gentlest, meditative lyricism. Here are the movements with hyperlinks to sound files (each about 1 megabyte):
I. A Door Was Opened In Heaven
II. The Sea of Glass
III. The Four Horseman
IV. As It Were of a Trumpet Talking
VI. A Woman Clothed with the Sun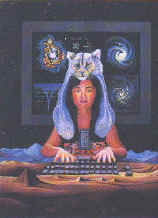 ELIZABETH HOFFMAN -- (New York University) "The Elderberry Goddess" for trombone and two track playback. An updated version of Hans Christian Anderson's fairy tale with a highly intricate and beautiful score composed with C-sound. The work touches upon the themes of the story: connectedness to the natural world, valuing of accumulated human relationships, a closeness to nature. The spirit of "Mother Elderberry" emerges from a teapot of elderberry brew. Flowers and a tree appear holding the Elder Mother who becomes the "child of memory." Under the tree an old couple reminisce about the beauty of youth. Remember love? Suddenly, the old couple remembers they the left the burner on. At least they had their memories.
CINDY COX -- (UC Berkeley) "Hysteria" for trombone, spoken text, and quadraphonic tape. Hysteria is the Greek word for womb. The text by the composer's poet husband, John Campion, explores the meaning of the word in several languages and provides the basis for this highly dramatic and profound work composed with ProTools and Audiosculpt.
CHRIS BROWN -- (Mills College) "Time Bomb: Two Poems by Mina Loy" for trombone and interactive electronics (using the software "SuperCollider.") The two poems are from Mina Loys late work, a collection entitled "Compensations of Poverty". The instrumentalist controls with her pitch and volume the granular playback of recordings she made speaking the two poems. An interaction develops between the acoustic sound and the electronic sound it engenders. The trombone "speaks" the poems.
ANNA RUBIN -- (Oberlin College) "Landmine", for trombone, two track tape and live electronics. The digital audio, which incorporates fragments of texts about landmines, was assembled in ProTools, using original sounds programmed on the Kurzweil 2000. Speech sounds were altered in SoundHack and/or by the use of various ProTools plug-ins. This performance will include three of the works six parts.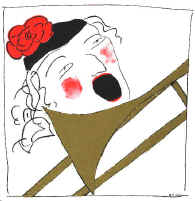 ANNE LEBARON - (Cal Arts) "Sauger" for trombone and quadraphonic tape. Specifically written for Abbie Conant, who played an active part in the realization of the piece, "Sauger" joins an instrument that is blown with an appliance that sucks. Both the title and the music of "Sauger" play with the multi-dimensional, and often conflicting, attitudes toward domesticity, housework, and entrapment. Raw source materials used in Sauger are simply a vacuum cleaner and, occasionally, a food processor. Internal rhythms from the sucking sounds of the vacuum determine more external rhythmic phrases, which are contrasted with and extended by a drum track. The work was composed using Pro Tools and a Kurzweil 2000 synthesizer.
MAGGI PAYNE -- (Mills College) "Hum 2" for live trombone and 7-track tape. Each autumn the Japanese goddess Tatsuta-Hime weaves a beautiful multicolored tapestry, then incarnates herself as wind and blows her own work to shreds. The seven-track tape is a prerecorded overdub of seven additional trombone parts played on a Surround-Sound system. (See the composer's comments about the work.)
NANCY DOWLIN -- "Love Song Without Words" is a work for trombone and guitar as gorgeously beautiful as it is simple.
WILLIAM OSBORNE -- "Street Scene For the Last Mad Soprano", a music theater work for performance-artist and quadraphonic sourround-sound, demonstrates the wide range of Conant's artistic skills as instrumentalist, singer and actress. Imagine a down-and-out soprano living among the dumpsters behind the Met. Tomorrow is her big audition at the Opera House if only she could think of what to perform. She colors her world with opera excerpts, grandiose Swan Songs and virtuosic escapades on her instrument-- but as she makes preparations for her final big audition, we see that the brutality of the street has long since caused the borderlines between life and opera to blur. In a word, "Street Scene for the Last Mad Soprano" explores the belief that cultural identity is necessary for survival and that it is a way of confronting our human condition. For more details and additional photos of this work see: http://www.osborne-conant.org/Street.htm