<![if !supportEmptyParas]>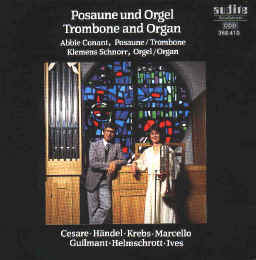 <![endif]>
<![if !supportEmptyParas]> <![endif]>
Contents with listening excerpts:
Trombone and Organ
(Windows media)
1. Giovanni Martino Cesare (1590-1667)           
Canzon "La Hieronyma"                                
2. George Friedrich Handel (1685-1759)
Sonata in A-minor
(excerpt)
3.  Johan Ludwig Krebs (1713-1780)
"O Ewigkeit, du Donnerwort"
4.  Bendetto Marcello (1686-1739) 
(excerpt) or as a (mp3)
Sonata C-major
5. Alexandre Guilmant (1837-1911)
Morceau Symphonique
(excerpt)
6. Robert M. Helmschrott (1938)
Sonata da Chiesa I
7. Charles Ives (1874-1954)
(excerpt)
Variations on America
To order this CD in Europe click here.
To order this CD in the USA click here.