Miriam
(A music theater work for performance-artist and pianist.)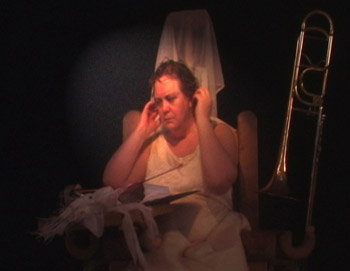 The Sound and Audio Files for Miriam

Abbie Conant: performance-artist, trombonist

Leonore Hall, piano

Roberta Militello: mask

William Osborne: text, music, direction, set, video

Complete video of

Filmed in March 2011

--35 minutes--

Format: Flash

(High res.)

This video will not work with Firefox. Please use Explorer, Safari, or Chrome.

A 12 minute demo-video of Miriam

Made in 1990 at the Hamburg State Opera.

Leonore Hall, piano

Format: RealMedia

The complete audio file for

(Miriam, Part I, for pant- omime and digital piano)

(17 minutes -- audio only)

Format: RealMedia
A General Description of Miriam.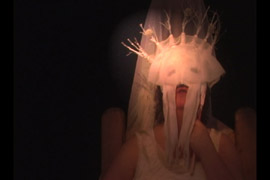 A woman trapped in domestic boredom moves toward a nervous breakdown. Institutionalized, she attempts to create a performance for a shortly expected visit from her children, but can find no words to express her feelings. She discovers she has no language of her own and recedes more and more into silence, finally imploding into soundless screaming. Only her instrument can serve as an expression of her deepest emotions. As the work ends, she is still determined to find something she can sing.
This work explores the relation between language, creativity, and identity. We develop the premise that the pursuit of creative identity is fundamental to human dignity, and that people denied that freedom develop existential, spiritual, and psychological problems.
Miriam also explores the belief that humanity has repressed its feminine side, thus losing many icons, archetypes, and forms of communication necessary for its well-being.
Women confront these issues because society imposes roles upon them that limit their human potential. Miriam's domestic role forces her to wear "masks," but her buried authenticity fights back. Women in the workplace face similar pressures since they often confront attitudes and prejudice that limit their development. These were the experiences of Abbie Conant who fought egregious discrimination in the Munich Philharmonic for 13 years.
Many professional women identify with Miriam. Sylvia Alimena, conductor of the Eclipse Chamber Orchestra in Washington, D.C. and a horn player with the National Symphony, was quoted in a feature about Abbie and Miriam in the Washington Post: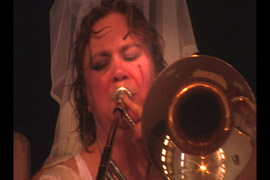 "'You can not imagine the power of this piece unless you were there in the room, Alimena says. "All those professional women, just shaken to their cores by this piece. Of course it resonates particularly with other players, because -believe it- the kind of treatment Abbie went through in Munich is not, by any stretch of the imagination, unknown in the United States.'"
Miriam experiences internal crisis, but she is more than just another "mad woman of opera," since she consciously confronts the stereo-typed roles, masks, and personas that are forced upon her as a woman. Perhaps this passage from A Spy in the House of Love by Anais Nin best describes the conflict of Miriam:
"She was like an actress who must compose a face, an attitude to meet the day. . . She must redesign the face, smooth the anxious brows, separate the crushed eye-lashes, wash off the traces of secret, interior tears, accentuate the mouth as upon a canvas, so it will hold its luxuriant smile. Inner chaos, like those secret volcanoes which suddenly lift the neat furrows of a peacefully plowed field, awaited behind all disorders of face, hair and costume, for a fissure through which to explode."
"Unfortunately, Abbie's story reflects the rule," notes Monique Buzzarte in the IAWM Journal, "not the exception, for women trombonists. Her case is distinguished from so many others not by the actions she endured, but by their severity, her documentation of them, and most notably, by her eventual victory."
Information about the video of The Chair.
Miriam, Part II: "The Chair" was premiered in November of 1988 for the Stuttgarter Tage für Neue Musik, which was under the direction of Hans-Peter Jahn. (The festival is now referred to as Éclat - Festival Neue Musik Stuttgart. The complete Miriam Trilogy was premiered in May 1990 as part of the Munich Biennale, which was under the direction of Hans Werner Henze.
This video was created as part of Abbie's sabbatical project for the fall semester of 2010-2011 thanks to the generosity and support of the Ministerium fur Wissenschaft, Forschung und Kunst Baden-Württemberg, and the Staatliche Hochschule für Musik Trossingen.
After several months of rehearsal, and performances at Northern Arizona University (February 22, 2011) and the University of Kansas City Missouri (March 22, 2011,) the video was edited from three run-throughs filmed between March 28-30, 2011. One run through was done on each of the three days. Through extensive rehearsal and preparation, our goal was to film only run-throughs, and only three, in order to preserve the dramatic continuity and emotional contour of the work.
We used a Sony VX-2000 camera and a Shure KSM32 microphone. The filming was completed in our studio in Taos, NM. The video was edited with Adobe Premiere CS4, with a small amount of additional audio editing with the hard disk recording software Samplitude. The results were exported into Flash for web delivery. The video lasts 35 minutes. We would encourage viewers to watch the work in its entirety, since its dramatic arch is among its greatest value. The bit rate is quite high, so some advance download time might be required for some Internet connections. If needed, please contact us and we can provide a link for downloading the video to hard disk free of charge.
In order to obtain a very black background and create the sorts of lighting effects used in our live performances, we used an extremely high f-stop setting on the Sony VX-2000 camera (f-11,) and added lighting effects with the spotlight filter in Adobe Premiere CS4. Adobe's media encoder does not properly export the lighting effects to the Mpeg2 codec used for DVDs, nor does it export correctly to the avi format. (Fortunately, export to Flash does work.) Until we find a solution for this problem, we will not be able to create a DVD version of our video, but the Flash version will make our work available to the international community.
We will be expanding this site with sizable articles about the compositional techniques and performance practices we have developed during the 30 years we have been creating these types of chamber music theater works. (The first two essays are below.) The video and essays will also be in support of Prof. Jesús Fernando Lloret Gonzáles who is completing his dissertation about our work for his doctoral degree from the University of Malaga, Spain.
The first essay below is by William and is entitled "Miriam and Chamber Music Theater." It focuses on the characteristics of chamber music theater, some of the techniques we use to create it, and why it is an important and necessary genre that should be developed. The essay is by Abbie, and is entitled "Diving Back Into the Bitter Waters of Miriam." It focuses on the correlation of our work with the seven principles of creativity used by Leonardo Da Vinci as formulated by author Michael Gelb.
Miriam and Our Theories of Chamber Music Theater
by William Osborne, April 26, 2011
Introduction
It's probably no exaggeration to say that only those who have attempted to write chamber music theater understand how difficult it is. It is virtually impossible to combine words and music into theater in a way that isn't hokey and clunky. And it is even more difficult if the goal is to give the words, music, and theater an equal artistic value in the service of substantial characters that develop. It should also be noted that these difficulties are vastly compounded if everything is in a raw, exposed chamber music format without the trappings of opera to pad the work with lavish sets, deafening bel canto voices, massive orchestras, and cavernous houses.
In spite of these difficulties, our goal is to make our performances so natural, and the compositions so effective, that they seem to border on the effortless. In some cases, this can be a bit misleading. In this article, we will give you a look behind the scenes and outline some of the theoretical concepts of music, theater, and performance involved in the creation of Miriam. We hope this will help people better understand the video of Miriam, why chamber music theater is so difficult to create, and why it is virtually non-existent in the oeuvre of Western classical music. You can then view (or review) the video to judge for yourselves how well we have realized our theoretical concepts.
It is also important to know that we have been involved in this work for a very long time. Miriam, the work in the video above, was premiered 23 years ago. As time allows, we will be creating videos of our other chamber music theater works so those interested can see how our efforts have evolved. We will also be adding technical essays about our methods of creating texts, about composing the works, and about the sorts of performance practices we have had to develop.
The Missing Genre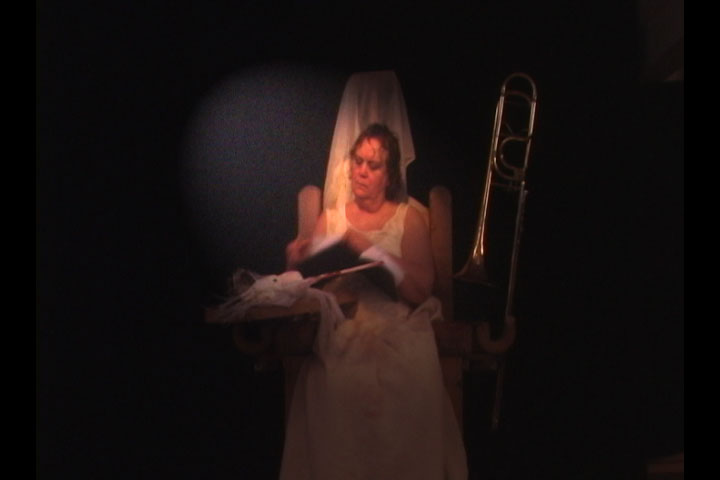 It has long been the goal of Western culture to establish a genre of chamber music theater, but this has never been achieved. We lack a substantial literature for such a genre, which for the most part, exists only in theory. Western culture has also long had the goal of creating music theater that fully integrates text, theater, and music on an equal basis. This ideal has also not been realized. If there are works that come close to obtaining these goals, they are only the exceptions that prove the rule.
These ideals about small formats and the integration of music theater's elements were first outlined by the Florentine Camera which flourished from 1577 to 1582. Early developments in opera were soon diverted away from chamber music theater toward large scale productions with elaborate staging featuring the bel canto voice accompanied by sizable orchestras. Since the bel canto voice is poorly suited to delivering texts that can be understood, the chances of opera genuinely integrating music, text, and theater were greatly reduced. And the focus on spectacle often precluded more subtle theatrical exploration. The goal of genuinely integrating music and theater in small formats was lost. Subsequent efforts in the following centuries were considered unsuccessful. Among the most notable were the melodramas of romantics like Schumann, Schubert, and Liszt. The music was often remarkable and inventive, but there seemed to be a lack of theatrical theory that could provide a basis for the creation of effective, small-format music theater. (To listen to a recording of Schumann's melodrama "Die Flüchtlinge", Op. 122, Nr. 2 performed by Dietrich Fischer-Dieskau click here.)
The absence of music theater in chamber formats represents an enormous gap in the oeuvre of Western classical music. Filling it is a fascinating challenge that remains to be solved. One reason this has not been done is that the capacity to create music theater of any sort is one of the rarest of all human abilities. In the 500 years since the Florentine Camerata first formulated our concepts of music theater, there have only been about 10 or 15 composers whose operas are regularly performed. For chamber music theater, the number is zero. Nevertheless, this dismal situation might soon change. Developments in technology and advances in the theory of theater since the Second World War seem to offer exciting new possibilities for the creation of an effective genre of chamber music theater.
The Development of New Theories of Small Theater
One of the most important of these developments was the appearance of a group of playwrights who dedicated their careers to works suitable for small theaters with limited resources and a limited number of actors. Important among these playwrights were a group of post-war writers based mostly in Paris that included Samuel Beckett, Harold Pinter, Eugene Ionesco, Jean Genet, Jean-Paul Sartre, and Antonin Artaud. (Pinter, of course, was based in London, and Artaud worked mostly before the war.) Their work established new forms of theatrical theory, but their writings and plays do not seem to have been widely explored by composers or librettists. This is unfortunate, since the concepts of these playwrights could be very useful for the creation of music theater in small formats.
This is nowhere more apparent than in the work of Samuel Beckett, who late in his life wrote a series of miniature plays that he felt were literally analogous to chamber music. His texts are also extremely musical, and as a director he demanded that they be delivered with musical precision, almost as if he were directing a musical score. One of his most important interpreters, the actress Billie Whitelaw, once observed when performing his short play Footfalls: "I felt like a moving, musical Edvard Munch painting and, in fact, when Beckett was directing Footfalls he was not only using me to play the notes, I almost felt that he did have the paintbrush out and was painting."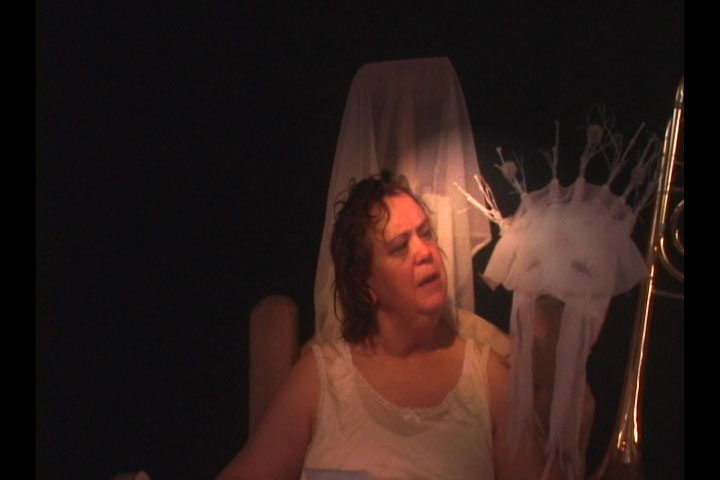 Unfortunately, few composers seem to consider the idea that writing opera might begin with examining the most recent developments in the theory and practice of theater. And there are no music schools that offer such studies a part of their curriculum. Most composers, as a result, continue to write operas based on theories of music theater still aligned with late 19th and early 20th century concepts of the bel canto voice, massive spectacle, and large orchestral resources. Progress has been further hindered because these works are often so weighed-down by the massive resources required for their production that useful experimentation and theatrical exploration remain impossible.
In recent decades smaller works have become more frequent, but as with efforts during the 19th century, they seem to fail due to the inability of most composers to apply effective theatrical theories to small-scale forms of music theater. From the most critical viewpoint, conceptualism often seemed to become the resort of ignorance and inability in many of these works. This was a general problem that plagued many artists in the post-war era, because so many common practices and belief systems were completely shattered. There were few accepted technical or aesthetic theories at hand, and those that were in the process of being formulated, as with the aforementioned playwrights, were difficult to recognize in the atmosphere of doubt that characterized the period.
In our attempts to solve some of these problems, my wife and I began by spending seven years studying the plays of Samuel Beckett and performing chamber music theater works we created based on them. The musicality and theatrical precision of Beckett's plays were perfectly suited to this endeavor. The small format of our works allowed us to put music theater in a test tube, as it were, and carefully explore and try-out what worked and what didn't. Miriam was the first work we wrote after those many years of involvement with the plays of Beckett, and the theories of his work are everywhere apparent in it.
A Different Type of Vocal Production
One of the first things we learned is that the bel canto voice is often poorly suited to integrating music, text, and theater because it can make words difficult to understand. It can also hinder the forms of vocal inflection that fully integrated acting demands. The bel canto voice is extremely beautiful and can reflect profound humanity and emotional depths, but it can also have a warbling, horsey, egoistic, physicality that subsumes all other elements of theater. Even in opera, the elephantine character of the bel canto voice sometimes borders on the ridiculous. The bel canto voice can be applied to some forms of chamber music theater, but in some cases, it requires that the singer adapt his or her forms of vocal production.
We found that the basic vocal techniques of bel canto applied to a more natural vocal style were essential to creating types of integration between words and music for which we were searching. Among the things you will notice in the video of Miriam are:
1) all of the words are easily understandable, 2) we strive to give the text a weight equal to the music, 3) detailed character development is an essential part of the piece, 4) the work requires extensive acting skills. These goals could only be achieved with new vocal techniques.
Opera singers are sometimes criticized for poor acting, but the fact is that musical and theatrical contexts for good acting are often not even provided by the scores.
An especially important characteristic of the form of singing we developed is that it allows for seamless movement between singing and speaking. We found that being able to use both sung and spoken passages allowed for much more dimension in our works. The wider pallet of inflection allowed by a lighter voice increases the ability to create believable acting and the authentic portrayal of characters. And of course, we do not present these ideas merely as a concepts or theories. We offer the video above of Miriam so that people can see the practical application of our theories and how they work.
The Importance of Texts
We feel that the value of music theater texts must be reasserted if the genre is to continue to evolve. One of the reasons opera began to decay during the 20th century was the loss of the art of the librettist. Since music, spectacle, and the bel canto voice had already begun to dominate opera even in its early history, librettos took on a strongly inferior role in productions. Especially in the Italian operas that came to dominate the genre during the 18th and 19th centuries, the creation of librettos became hack work based on stock characters. By the time the 20th century arrived, few authors were interested in work that was considered demeaning and anachronistic.
These negative views of the librettist's art are somewhat one-sided. Even though librettos all too often fell to hack work, their importance is demonstrated in most of the truly great operas. Boito's adaptations for Verdi's Othello and Falstaff are well-known examples. Other important examples are the librettos of Da Ponte which so deftly provided a framework for Mozart's genius. It is impossible to write truly great operas without excellent librettos.
The dearth of librettists during the 20th century thus had catastrophic consequences. More operas probably failed due to bad librettos than to poor composition. Another result was that the art of writing librettos did not continue to evolve. The few librettists that remained continued to think of opera in terms of 19th century practices, and failed to keep pace with the 20th century's newly evolving theories of theater. Many recent operas are so locked in slightly updated 19th century conceits that they hardly even reach the early 20th century theoretical concepts behind the comedies of Oscar Wilde or the social realism of Berthold Brecht. Some librettists have employed the seemingly modern techniques of minimalism, but still in service of spectacles reminiscent of 19th century theatrical values. There have also been attempts to revive opera by embracing exoticism, such as the use of Chinese instruments and myths. Here too the efforts are superficial, have a 19th century quality, and do not provide long-term solutions or the basic understanding of current theatrical theory that is needed if classical music is to keep the development of music theater alive.
Perhaps it is worth noting that one off-shoot of this problem with librettos has been the development Regietheater. In essence, it exists because many, if not most opera librettos are so absurd that they beg for enhancement. Sadly, this seems to apply to many contemporary operas as well. Unfortunately, Regietheater is a stop-gap method of trying to improve librettos (both new and old.) And even more, it's a largely futile attempt to recreate texts in ways that might give the standard repertoire more theatrical substance and modern relevancy.
Stage Directions As An Integral Part of Scores
In addition to giving our texts a weight equal to the music, we also place a special emphasis on stage directions and actions, and precisely notate them in our scores. Through our study of Beckett, we developed the theoretical concept that a music theater score can (and perhaps should) be so detailed that it becomes a production book. As part of this, we generally notate the rhythms of even spoken passages in order to precisely coordinate them with their musical accompaniments and to highlight the musical nature of their cadences and rhythms. (It is interesting that when Beckett directed he demanded that his words be delivered with certain kinds of rhythms even though he had not developed any way of stipulating them in his texts. In the mid 1980s, I gave him several of the scores I had written based on his texts and he invited me to Paris to meet with him. He was especially interested in how the rhythms of the spoken words had been notated.)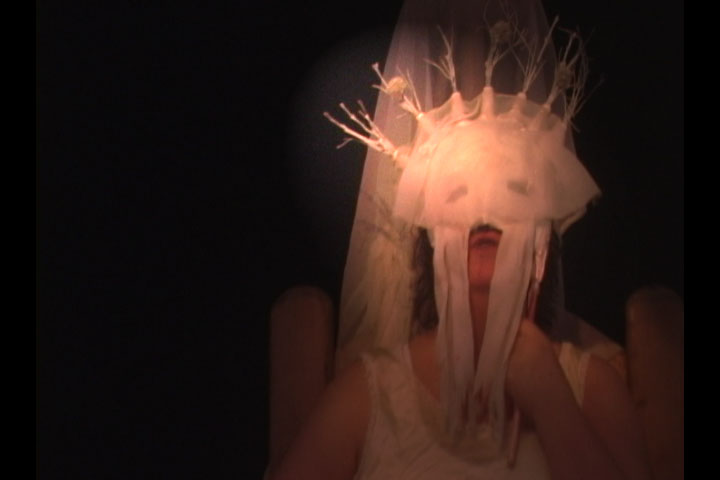 Beckett was a young man during the silent film era. He was initially interested in becoming a film director and considered traveling to Russia to study with Sergei Eisenstein. Beckett also admired the work of silent film stars like Charlie Chaplin and Buster Keaton. In 1964, he wrote a silent film script for Keaton. Two of Beckett's plays are scripts for a pantomime without any spoken text, entitled appropriately enough "Act Without Words I" and "Act Without Words II." All of his plays contain extensive and explicit stage directions whose semiotic meanings are often quite profound and are as essential to the work as the spoken texts. Beckett thus refused to allow productions which didn't follow his stage directions, and his estate continues this practice.
In the first few pages of Beckett's play Happy Days, there are over a hundred stage directions explicitly describing the main character's actions as she begins her morning ablutions. When I set the text, I followed the directions in great detail and even wrote specific musical accompaniments for almost all of them. As you can see from the above video, we employ similar techniques for the first part of Miriam, which contains about a hundred small gestures all correlated with specific, short musical figures. Our goal is to create a sort of ballet out of Miriam's simple gestures as she puts on make-up and works on a text she is writing. Words, singing, speaking, gesture, and acting are strongly integrated and coordinated with a patina of music. This is possible because each of these elements is precisely notated in the score which functions as a production book, and which aligns all of these elements with the music.
The Unity of Image, Time, and Place
In our chamber music theater works, we also follow Beckett's reemployment of the Aristotelian ideal of using a single time, place, and image for each work. Our sets are very simple, and designed so that all of the theater naturally and spontaneously flows out of them. One sees this theory at work in Beckett's play Happy Days, where a woman is buried in the earth to her waste, and later to her neck, but is trying to remain optimistic. It is also apparent in Waiting for Godot where two tramps wait endlessly on an empty road with nothing in sight except a small, barren tree. Time, place, and image reveal an existential unity. Similar techniques were used by Ionesco in plays like The Lesson, by Genet in The Balcony, Sartre in The Chamber, or Pinter in The Caretaker. In theory, this unity of time, place, and image creates an especially powerful, iconic effect because it removes all that is extraneous and thus reveals fundamental aspects of our existential condition.
This is a world far removed from the bellowing, pompous, excessively lavish, Zeferellian worlds portrayed by most operas and their productions. The humanity of the characters is all too often buried underneath the monstrous size of the productions. (An example would be the Met's current Ring production which uses a 45 ton stage machine.) By stripping away all that is superfluous, our goal is just the opposite, to put the human center stage and examine the most fundamental aspects of their lives.
Capturing the Musicality of Language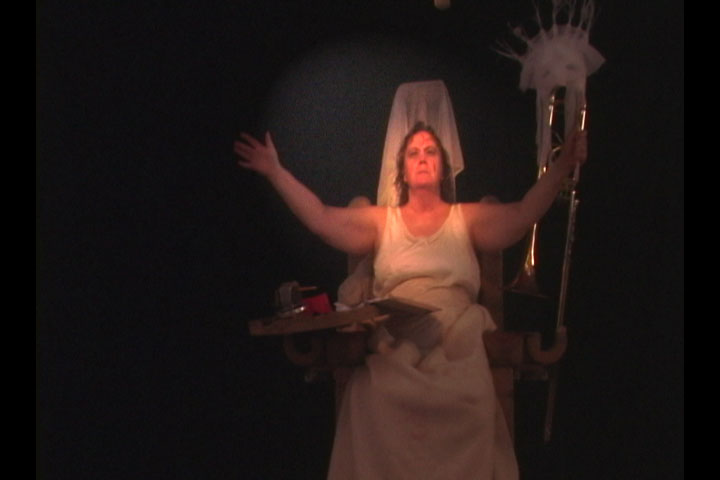 As musicians, our goal is not only to give language an equal importance in our music theater, but also to develop language that is realistic and natural while being inherently musical. Even though Beckett, Pinter, Ionesco, Genet, Sartre and Artaud all represent similar developments in the theory and practice of theater, Beckett stood apart in his use of language. It is rewarding to study how he created very real characters with natural language that is often astoundingly beautiful and musical. His teacher and mentor, James Joyce, once advised him that, "It is not what you say, but how you say it." Beckett's thought is notably profound, but the ideas reflected in his work might be most appreciated due to their poetic formulations.
Note the beautiful cadences in the famous excerpt from Waiting for Godot quoted below. Picture two tramps on an empty road in the middle of nowhere. Listen to the subtle use of repetition; the sounds of the words that sting the ends of sentences; the quick, faceted movement between extroversion and contemplation; the richness of the vocabulary captured in simple, single-syllable words; the percussive patterns created by the calculated rhythms of crisp consonants; and the perfect form of the paragraph as a theatrical beat. And notice how all is in seemingly natural language heavily imbued with the humorous and profound ironies of absurdism:
"Let us not waste our time in idle discourse! Let us do something, while we have the chance! It is not every day that we are needed. Not indeed that we personally are needed. Others would meet the case equally well, if not better. To all mankind they were addressed, those cries for help still ringing in our ears! But at this place, at this moment of time, all mankind is us, whether we like it or not. Let us make the most of it, before it is too late! Let us represent worthily for once the foul brood to which a cruel fate consigned us! What do you say? It is true that when with folded arms we weigh the pros and cons we are no less a credit to our species. The tiger bounds to the help of his congeners without the least reflection, or else he slinks away into the depths of the thickets. But that is not the question. What are we doing here, that is the question. And we are blessed in this, that we happen to know the answer. Yes, in this immense confusion one thing alone is clear. We are waiting for Godot to come—"
Beckett savored the sounds of words and always employed them for their sonic effect. This same sensibility was applied to the shapes inherent in his sentences which were always formed by the most musical rhythms, repetitions, and symmetries. His frequent use of alliteration and subtly permutated repetitions are other techniques, as was his ability to write natural dialog infused with the cadences and syncopations of poetry, but without ever descending to poesy. Especially notable are his uses of silences, which are exquisitely musical and precisely notated in his texts.
Michelangelo once famously said he released his sculptures from the marble that encased them. Setting Beckett's words to music is somewhat similar. The music is simply released from the words that encase it. Speaking his sentences is like softly moving a string of mellifluous bells. And yet these words also portray very natural and idiomatic characters without Sondheimian cuteness, Gilbert and Sullivan show biz, or Rogers and Hammerstein poesy.
Even though the challenges are obviously almost insurmountable, we sought to make these theoretical principles the basis of our own texts. We wanted texts that would allow us to portray and explore fundamental existential concepts; texts that accurately portrayed natural and believable characters; and texts that notated actions with such precision that they could be fully integrated with the spoken words and given structured musical accompaniments. And as with Beckett, we sought texts so musical that we could notate even spoken rhythms and pauses, and language that could easily flow between spoken and sung words. Naturally, it was and remains a difficult and frustrating task. The video above will show the extent to which we had solved these problems by 1988.
Character Portrayal
We especially admired the aforementioned authors because they were all masters of character portrayal, even when examining the most abstract existential concepts. Character development is ideally suited to the genuine integration of music and theater. When the subjective emotionality and visceral levels of music are genuinely integrated with the objective nature of theater, a Gestalt is formed that reveals a wider spectrum of human consciousness than any other art form can achieve. Due to music theater's simultaneous focus on the mental, visceral, and emotional levels of human identity, it is especially well-suited to character studies. That is perhaps why many operas focus on a central character's development, and why the works are often named after them. Orfeo, Lenore, Tosca, Siegfried, Salome, Elektra, Madam Butterfly, Wozzeck, Lulu, Peter Grimes and Billy Budd are but a few examples. Following in this tradition, all of our works are monodramas that explore a single character's world stripped down to its barest, existential foundation.
Performance Practices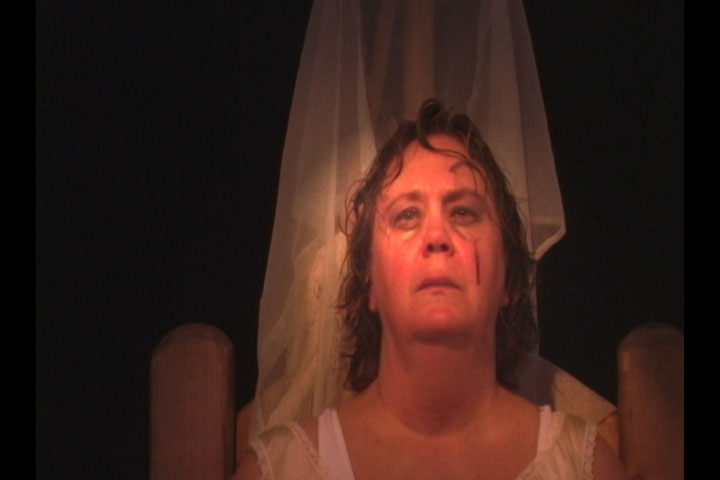 To genuinely integrate music, text, and theater we had to create new performance practices and spend years developing them. As mentioned, one of the most important was a more natural way of singing that would not overwhelm the other elements of theater, that could create an easy flow between spoken and sung passages, and that would allow for nuanced acting. To perform these works, Abbie spent years studying singing, acting, mask work, dance, and pantomime. In order to precisely incorporate these disparate elements into music theater works, we also had to develop new concepts of musical notation. (These performance practices and their notation will be the subject of a separate article, but for now you can examine the scores of Winnie, Street Scene for the Last Mad Soprano, and Cybeline and to get a sense of some of the methods we use.)
The Practical Value of Small Music Theater
In addition to expanding artistic possibilities, small forms of music theater also have a great deal of practical value. We live in a time where slap-dash concerts and opera productions have become the norm. The large size of symphony orchestras and opera houses places them under severe financial restraints. There is often a lack of musical thought in their performances because there is simply not enough rehearsal time for the conductor to convey his or her ideas to the musicians. Over the centuries, opera grew to such a grand scale that it could only exist in very elaborate and expensive support environments. (To be provocative we might describe them as something like those humongous dinosaurs that would collapse on their own weight unless they stood in large bodies of stagnant water.)
The most notorious of such houses is the Metropolitan Opera whose 300 million dollar per year budget is about twice that of comparable houses in Europe, and even though its seven month season is four to five months shorter than its European counter parts. No expense is spared on its usually conservative and lavish productions, and the Met strives to hire only the most famous and expensive singers. Strangely, the artistic results are often superficial. The lavish but conservative staging is designed to suit the house's wealthy patrons and is criticized for lacking aesthetic dimension. And the star singers have very full schedules which greatly reduces the amount of rehearsal time they are able to devote to the Met. They often show up for only a few rehearsals so the stage direction has to be very simple. Essentially they are told where to stand and sing and not much more. These park-and-bark productions with lavish, conservative sets oriented toward the tastes of wealthy donors are not held in particularly high esteem by the international opera community. They are noted more for extravagance than substance.
Productions of new works are especially difficult under this system. They are thrown together as quickly as possible and the performances are usually little more than glorified sight readings. One often senses an aggressive grasping at the music by the orchestra and stilted performances by the singers that is very unrewarding. Chamber music theater, by contrast, can still allow for extensive preparation, study, and experimentation. The performers can become fully committed to the art they are presenting and deeply embody it. Naturally, the results can be far more satisfying in terms of the depth of the performance and the messages conveyed. Chamber music theater can stand in stark contrast to the pompous, factory-like, slap-dash vacuity of work by opera houses. Chamber music theater could even benefit opera as a whole by setting new standards for innovation and engagement. If nothing else in the video above, you will notice the unusual intricacy, depth and commitment of Abbie's involvement.
Filling Niches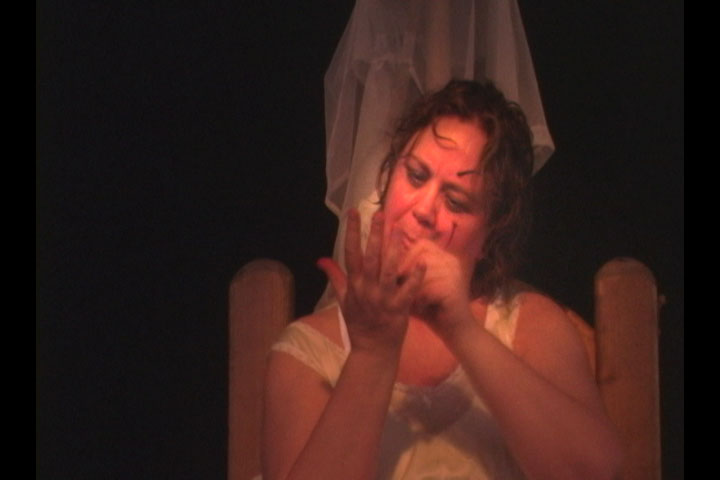 Chamber music theater could also fill important niches in Europe and America, though for somewhat different reasons. Germany has 80 fulltime, year-round opera houses while the United States with four times the population doesn't have any. (As noted, even the Met only has a seven month season.) We only have a handful of real opera houses, and they have only partial seasons. In terms of opera performances per year Chicago is in only the 62nd position, San Francisco 63rd, Houston 101st, Washington 121st, and Santa Fe 172nd. The few other companies that exist in America have even shorter seasons. They usually do not have houses and perform in poorly-suited rental facilities with pickup orchestras and singers. This applies even to cities with metropolitan populations in the millions like Atlanta in the 272nd position, Kansas City at 275th, Baltimore at 322nd, and Phoenix at 338th. They are far outranked by even cities like Pforzheim, Germany which only has 119,000 citizens but occupies the 87th position and thus outranks even our nation's capital, Washington D.C, by 34 positions. (These and many more valuable statistics are available at Operabase.) Nothing can replace the beauty and grandeur of opera, but in a society where opera hardly exists, and where the vast majority of citizens will never experience live opera, chamber music theater could serve as at least a partial alternative. This is one of the reasons we refer to ourselves somewhat sardonically as The Wasteland Company.
In Europe, opera houses are far more common and a large number of them also have a studio theater (usually in a black box format) for the presentation of smaller forms of music theater. Unfortunately, there is not much literature that actually fits the purpose of these small music theaters, so they are often neglected and even used for other purposes such as spoken theater productions, new music concerts, parties, cabarets, and so on. One major German house even used its black box theater as a store room for several years. By creating a genre of chamber music theater, opera houses could greatly expand the sorts of productions they present, and expand the kinds of interesting, challenging, and rewarding experiences they provide to their artists and publics.
We hope these thoughts will help those who watch the video of Miriam better appreciate what they are seeing and hearing. Of course, these are just words and don't mean anything if they can't be put into practice. So watch the video of Miriam and decide for yourself what they are worth. Consider the integration of acting and music; the balance between music and the text; the detailed and sustained character study; the new performance practices that are shown; and the ways they are notated in the score. And please consider the viability of chamber music theater, the important gaps it could fill in our artistic expression, and the practical uses it would fill in our societies. With such a difficult undertaking as chamber music theater, we are keenly aware of the risks we constantly take. And we are intensely conscious of how badly we can fail, and that we often do. But every artist has to sooner or later put him- or herself on the line and show the proof of their efforts. Whatever people might think, we hope the video and this article might help them develop their own ideas. If you have any thoughts, comments, or suggestions, we'd love to hear from you. Thank you for visiting.
Diving Back Into the Bitter Waters of Miriam
By Abbie Conant, June 13, 2011
Introduction
In his New York Times Bestseller, How to Think Like Leonardo da Vinci, author Michael Gelb defined seven principle's that characterized da Vinci's life and work. For my sabbatical project, I applied these principles to aspects of musical performance and teaching, with a specific focus on re-learning a difficult music theater work entitled Miriam, which was written for me by composer/director William Osborne. I hadn't performed Miriam since 1996. During my semester-long sabbatical, I studied Leonardo's life, his character, his art, his scientific writings, and his journals. It wasn't my intention to become an expert on Leonardo, but to find clues pointing to a holistic approach to performing and teaching my instrument. Why not consult the greatest all-round genius the world has ever known?
I chose to do my work in Taos , New Mexico , an artist colony at the foot of the Southern Rocky Mountains in a range called the Sangre de Christos Mountains. Taos has a special atmosphere conducive to creative work, a special light and magic. It is home of the famous Taos Pueblo, where the Tewa Indians have lived for over a thousand years. Taos Mountain dominates the high desert landscape at an elevation over 13,000 feet, and is sacred to the Tewa.
During this period, I was invited to perform my sabbatical program entitled Apocalyptic Visions and New Worlds at Northern Arizona University in Flagstaff , and at the University of Missouri in Kansas City . The program was very well received, as evidenced in an email I received from Alexander Lapins, Professor of Tuba and Euphonium at NAU:
The performance you gave was absolutely profound. Your exquisite musicianship, dramatic commitment and your simultaneously elegant and powerful trombone playing illuminated the works performed to perfection. The works themselves were sublime; frightening, funny, terrifyingly beautiful, powerful and brimming over with humanity. This was a stunning, engaging and enlightening experience. Thank you!
I also gave master classes and talked about my work with students. I discovered that applying the Seven Principles when learning a piece was extremely valuable and worthwhile. The reader will be able to see for him- or herself the merit of using the Seven Principles for the entire spectrum of artistic endeavors by reading the article below. I was also able to document my work by creating the video of Miriam linked above and putting it on our website.
The Miriam Trilogy is a harrowing chamber music theater work that lasts 90 minutes. It requires a performance artist who must be an actress, trombonist, soprano, and pantomime. Miriam is a portrait of an artist and her struggle to find words --to tell her story which is so much more than anything words can contain, that the attempt almost destroys her. Miriam was premiered for the Munich Biennale in 1990, and was written, directed, and produced by William Osborne.
Miriam is in three parts:
Part I, The Mirror, is a musical pantomime showing her identity crisis and attempted suicide.
Part II, The Chair, finds Miriam confined to a chair in a mental institution --a chair only experienced in a nightmare, part child's high chair, part torture chair, part electric chair, part symbol of a woman in the straitjacket of an abusive marriage contextualized by modern day patriarchy. In this part of the trilogy, we see Miriam trying to write a music theater piece to perform for her children who are about to visit her in the institution. There are no words that are hers, that could ever be hers, but she still vows to somehow find them to express her predicament.
Part III, The River, finds Miriam beside a symbolic river making slowly morphing gestures of taking her infant daughter from the water and/or letting her go to float down the river.
The Trilogy shows us what is behind each of the three doors of the subjective perception of a woman. In general, we experience a universal anima and feminine spirit. We experience a woman's spirit of creativity caught in the poisoned landscape of patriarchy. We experience a world where the feminine is not truly seen, where it is not taken seriously, and where it is instrumental zed and deeply violated.
Miriam is an example of a human trying to create art out of pain. The work was written in reaction to the egregious gender discrimination I experienced in the Munich Philharmonic during my 13 year tenure there. My husband also felt deep pain at seeing his wife abused, which led him to compose Miriam. You can read about my experiences in a highly documented article entitled "You Sound Like a Ladies' Orchestra."
I was not exactly thrilled about returning to a work that represented that dark period our lives but we both knew it was time to revisit the character and spirit of Miriam in order to be reborn, in a sense, into the next phase of our artistic lives. What I discovered through reflecting on the seven da Vinci Principles resulted in a deeper understanding of all aspects of interpreting and performing. These explorations included how I integrate trombone playing, acting, and the use of my sung and spoken voice. I also explored how Miriam's spirit reverberates in the hearts and minds of the audience. I experienced myself and my character, Miriam, as a voice in the midst of an awakening group of humans in a patriarchal wilderness, who are to varying degrees able to hear her cries, hear the music, and the song of her emergence into her own light.
Even though the experience of re-learning and absorbing Miriam happened in an integrated manner, I will attempt to break down and separate each element and principle so that they illuminate some of the layers and work methods I used preparing The Chair for performance. Here are the Seven Principles:
1. Curiositá– an insatiable, passionate curiosity.

2. Dimostrazione – testing knowledge through experience, not being afraid to fail.

3. Sensazione – continuous refinement of the senses.

4. Sfumato – a willingness to embrace ambiguity, mystery.

5. Arte/Scienza – developing a balance between art and science, objectivity/subjectivity, balancing use of both brain halves.

6. Corporalitá– cultivating fitness and poise, respecting the body.
1. Curiositá
Questions. So many questions. How would it be to go back to a very challenging work, both technically and emotionally? Would it be substantially different? In what way? What had changed in me, and in my psychology, since the last performance in 1996 – 15 years earlier?
Curiositá in the context of the da Vinci Principles is not simply curiosity. It is the passionate, inquiring, scientific mind as tempered by the subjectivity of the artist. It is the impulse to expand knowledge and connotation itself, to deepen the resonance of the meaning of ideas, symbols and gesture, whether in music, art, science or culture itself. It is knowing that as one observes, one creates. In a sense, Curiositá is Leonardo's prescience of the phenomenology developed in the 20th Century – and by extrapolation, perhaps even the beginnings of quantum physics. By questioning everything about Miriam --her character, her expression, her words, her vision, her and emotional spectrum-- I created a new Miriam.
2. Dimostrazione
Dimostrazione is learning through actual experience --a constant and deep questioning of one's beliefs, assumptions, habits and methods. Miriam questions the status quo that initially put her where she is. By the end of the piece, we feel sure that through this constant questioning she will find the truth that will set her free. Dimostrazione is the scientific method that will only take truth for an answer.
In relearning The Chair, I asked myself, who is Miriam? As Miriam, how would I feel, write, sing, play trombone, be funny, weep, and so forth. Why is she imprisoned in the chair? Why does she want to write a music theater piece for when her children come to visit? Is it because she can't communicate through verbal exchange? Or is it because she won't be believed or taken seriously due to her invalidated position in life?
"They'll stand there silently, looking at me!," she proclaims. Apparently she thinks having a music theater piece ready for their visit will allow her to circumvent being looked at as a freak by her own beloved children. She will be able to share something substantial with them without embarrassment, without much interaction.
At the end of the piece, Miriam sees through some of her illusions as her memories are found to be partial or deluded. "The lighthouse…the swelling sea…no, only night. The moon upon the sand…only sand. " So what is real? She resolves to find out. She will find words that include and celebrate the feminine. She will stare the sense of inferiority in the face and see what it is about. Dimostrazione will show her the way.
3. Sensazione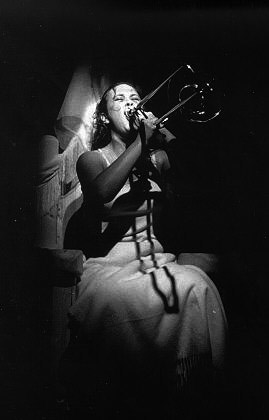 Leonardo consciously developed his senses because he believed that intelligence depended on perception. Miriam is completely alone in her world. She senses the fall of night which ushers in the danger of "too much fantasy." Just sitting in Miriam's chair evokes through the tactile sense, what her experience might be about. She is trapped in a kind of tortuous limbo of inarticulateness. Her relationship to the world is deeply injured if not completely severed. She is unkempt, but nevertheless has a mirror and make-up on her little table which resembles the table on a child's high chair. She can't "see" herself as others see her. Her perceptions are skewed with the madness of extreme emotion without the frail anchor of words. She runs out of writing paper and so uses the palms of her hands instead. They bleed under her pen point. "More words and more words, but not a song to sing!!!," she screams. Through self-inflicted pain, she expresses her frustration, anger and sadness about her predicament. Her stigmata testify to her victimhood, but subtly allude to a possible transcendence, a rising up.
"And what if she were real?" she asks as it turns into night. She feels the cold, she shivers constantly. Her voice is ravaged, she feels she must sing, but the singing turns to screams that can't be heard.
Putting on Miriam's thin slip that exposes her neck, décolleté, and arms, communicates without words how vulnerable she is --that she is a patient, a subject in an institution where one need not wear street clothes, but indeed must wear clothes indicating sickness and invalidity.
One could argue that Miriam's senses are over-refined, that this is exactly what landed her in the institution. In fact, it is these refined senses that brand her as an artist --an artist not allowed to be an artist.
She is the shadow side of the great artist who is traditionally depicted as male, powerful, and the voice of his nation or culture. Miriam is female, powerless, and has no voice. She is "put away." Her senses deliver only pain, darkness, and the loneliness of alienation.
4. Sfumato
Sfumato means literally "up in smoke". It was a painting technique that Leonardo developed to soften and blur the interfaces in his paintings to create ambiguity. Sfumato includes the ability to embrace the unknown, uncertainty, to allow two or more answers to a single question. Sfumato means accepting that an important part of life is mystery, unknowing, the void. Miriam is not sure of anything in her world, except for the things on her desk: her makeup, her mask, her pen, her notebook, her mirror. All around her is the extension of sfumato that bridges the presence of darkness. Her mask has an almost bridal quality, as do the diaphanous swaths of translucent white material on the back of her chair, while the piece of rope suggests bondage. There is nothing unambiguous about Miriam except her pain and her body. As the actor, I have to be comfortable with not knowing exactly what the piece means, but knowing and intuiting who this figure represents all the same. I must dredge into my own darkness in order to ignite the archetypal force of Miriam. What is behind the smoke or sfumato? The thousand-voiced self, the mystery that reveals more mystery ad infinitum.
5. Arte/Scienza
Arte/Scienza is balancing the scientific mind with the artist mind, objectivity and subjectivity, the left and right brain. Arte/Scienza encompasses fact and fiction. History and Story. Water and Wine. Chemist and Alchemist. Logic and Imagination. Words and Music.
Acting depends on a good dose of this dual principle because the actor's sense of what they are subjectively expressing through the character they are objectively portraying is often somewhat skewed. The actor's perception of what they are communicating and revealing about the character doesn't always come across to the audience. The director serves as the Scienza part of the process, and guides the actor to the correct balance of inner experience and outer expression. The visual aspect of Miriam's predicament is the Scienza component, whereas the musical/textual aspect reflects her inner world, her subjective experience of life.
The structure (or Scienza) of the piece informs the subjective emotional/energetic arc for the actor which helps them pace and develop the flow of emotions and energy to create an integrated, impactful whole. One would deliver the text, "Nothing but empty words!" quite differently at the beginning of the piece as opposed to the end. Having the structure in mind shapes the resonance of the words. The objectivity of the score is there to temper as well as ignite the imagination of the artist.
Miriam talks to herself alone in her room in the clinic (Scienza,) then sings behind her mask (Arte) in alternation throughout the first part of The Chair. When she sings behind the mask, the irrational, the mysterious, the Arte is expressed. A stage and a performance are a sort of test tube where artists mix up a formula for the soul to ingest. The objective elements are the science, while the subjective sense of proportion and combination are the domain of the artistic mind.
6. Corporalitá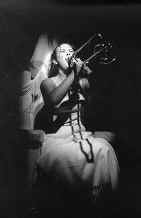 Miriam is a very physical piece. She sits before us locked in her bigger-than-life chair in all her corporeal, middle-aged, well-used, solid, but expressive body. We see her --warts and all-- dressed in a thin nightgown with a blanket covering her lap. She is almost too real, too painful to look at, all too familiar on some archetypal level. Her body suggests neglect if not abuse. Her hair is stringy, greasy and unkempt. There are dark shadows under her eyes. She is a shut-in, physically as well as spiritually. The body clearly reflects the spirit here.
And yet she has a certain poise and force. She writes with vigor, sharpens her pencil with single-minded fanaticism, flings her wads of paper in every direction, sings with a manic gusto, or shouts as if wringing out her every bodily tissue. She has command, or more accurately partnership, with her body. It is an observed body, a body bound and carefully monitored by others one moment and ignored the next. It is the wounded woman's body crushed under the dull weight of patriarchy. Her creative impulses are dismissed into darkness and alienation. Her body is in a state of humiliation. And yet it is her body that keeps on singing. It is her body that manifests the resolve to "find the words".
Certainly I had to train my body in many different disciplines in order to perform Miriam. I had to learn to sing at a professional, classical level. I had to learn pantomime, acting, and figure out how to go quickly between singing and playing the trombone even though the sense of support and the amount of air necessary for each is vastly as well as subtly different. I learned that every micro change in the body, every tiny movement, every breath, every thought that skitters across my face will show when I am on stage. I had to learn that all physical change must be intentional and motivated so that the body becomes the perfect medium of expression, a living crucible of the flesh.
Layers of skills merge in order to create an integrated body of free expression. The trombone is played as simply an extension of a tortured body. My instrument must take up the speechlessness, the void of words, and sing for the soul who cannot utter another word or sound because they have become empty in the face of unfathomable pain. When one's very context is toxic and wounded there is little point in having a text.
The singing and delivery of text is completely integrated with the hundreds of gestures written into the score. My job is to not make the audience become aware of the score but only of the character. This requires corporal intelligence and sense training of the highest order. The body is honored thus in its sadness and bondage. The human feminine becomes the embodiment, if only fleetingly, of the Divine Feminine.
7. Connessione
Connessione is seeing the oneness in all things, that all things are related. It is also the quality of wholeness and integrity --the microcosmos that contains the macrocosmos. It is vital to see the composition as a unity, and see how all the elements and parts create a larger gesture. Music creates connection and unifies the audience. The music and text create a character, a living being who is ignited by the performer and burns as a light to the audience.
This unity creates a bond between the performer and audience. It not only reminds us that we are one, but creates a literal experience of oneness. I must become one with the music, find the character in me, and become one with her, become one with my voice, my gesture, my trombone. The audience must feel me as an extension, a part of them made visible, made real.
Even though I must break down the music and text into smaller parts in order to master the technical aspects of the score, ultimately I must integrate all that I have learned into a seamless world. The character Miriam I portray enters the world in odd and fascinating synchronicities. I meet an inordinate number of girls, women and even pets named Miriam. Women I know struggle to become artists no matter what the cost. They rage at the injustice of patriarchy and how it is poisoning all of us and killing the earth. As the character reaches out into the world and is reflected back to me, I find her within me looking at the world as I experience her take on life. There is a oneness in this process where all is permeable, interrelated and included. The universal is the personal and the personal universal. The last utterance of Miriam in The Chair is "Words." The naked voice of the human alone in her creation reverberates into nothingness. We feel our existential truth, our aloneness in an incomprehensible universe, together.